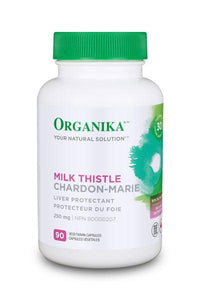 The liver is a very important organ in our body - there are over 500 roles it performs all the time!
Milk thistle is traditionally used in herbal medicine as an effective yet gentle liver protectant. Organika Milk Thistle is a potent extract from the seed instead of the flower, which contains much lower amounts of silymarin.
Milk thistle and silymarin have powerful antioxidant properties, protecting your body from free radicals and lipid peroxidation that cause cell damage and premature aging. They can also increase the liver's content of glutathione, a powerful antioxidant that we produce in the liver, by more than 30%. This means greater efficiency of the liver when it comes to cleansing the body and eliminating toxic substances. It also helps improve digestion.
90 capsules.
How to use
RECOMMENDED DOSE - ADULTS (ORAL) ONLY:
Take 1 capsule 3 times daily with a meal.
DURATION OF USE:
Use for at least 3 weeks to see beneficial effects.