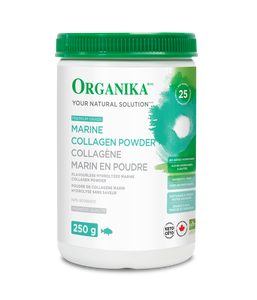 Organika's Marine Collagen Powder contains 15 essential and non-essential amino acids to support your overall health and mixes easily into your favorite foods and beverages. Marine collagen is an excellent alternative to collagen of bovine origin.
Collagen is the most abundant form of protein in our body, which gives us strength, elasticity, tone and structure. It acts like the "glue" that holds the body in place. We need it to have healthy skin, connective tissues, muscles and bones. Internally we have 27 different types of collagen. Type 1 collagen, the most abundant found The collagen found in the scales and skin of fish is primarily for the health of our hair, skin and nails.
250g
Mix 2 heaping tablespoons (~10g) of Marine Collagen powder into half a cup or more of your favorite hot or cold beverage daily. Can also be added to smoothies, baked goods and other recipes.