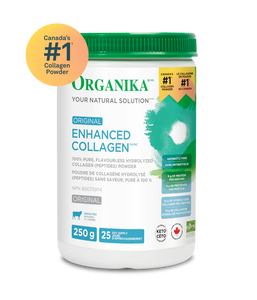 From healthy hair, glowing skin and strong nails to healthy guts and joints - this super powder has super powers! Organika's Enhanced Collagen is a clean, single-ingredient formula, sourced from pasture-raised cattle and free of hormones, antibiotics, GMOs, and gluten. This odorless and tasteless formula is hydrolyzed for maximum absorption in the body.
Promotes skin rejuvenation, hydration and texture
Strengthens and promotes the growth of hair and nails
Helps maintain healthy joints
Promotes gut health and weight management
Increases your skin's elasticity and hydration and also helps reduce UVB damage and signs of photoaging.